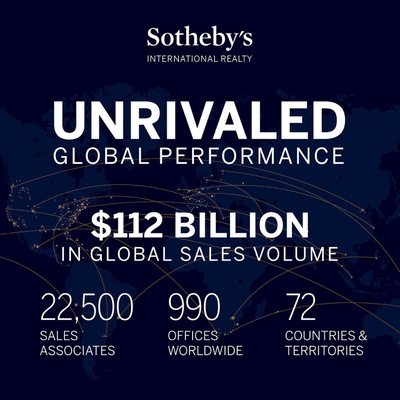 World leader in luxury real estate

Sotheby's International Realty France - Monaco is the largest network of luxury real estate agents specializing in high-end properties in the prestigious real estate markets in France and Monaco.

This prestigious heritage, which has evolved into close collaboration, enriched by a presence in more than 70 countries through more than 1,000 agencies and 25,000 employees, gives us access to the largest file of qualified and wealthy clients on the planet.

Whether in the Middle East, in Europe, in the USA, in Asia-Pacific or in Africa where luxury criteria are systematically retained, Sotheby's is the privileged agency. This recognized legitimacy makes it possible to display more than 45,000 mandates, including the most beautiful properties in the world.

Our international luxury network and French real estate negotiators offer our French and foreign clients more than 2,000 prestigious properties, for purchase or rental in all price ranges, such as luxury apartments, " charming "pied-à-terre", impressive mansions, historic castles, wine estates, vineyards, entire villages, medieval fortresses, restored farmhouses, contemporary properties, luxury villas, properties on the seafront and "pieds-dans-l'eau", charming chalets and many more...

All our properties and prestigious properties have been carefully selected by our real estate network and our French experts and benefit from quality facilities such as heated swimming pools, tennis courts or golf courses on the edge, jacuzzis and spas, private beaches, guest houses, staff quarters, multi-car garages, beautiful gardens, landscaped grounds, wine cellars, helipads, generous proportions, sublime views, and many more. other noteworthy amenities.